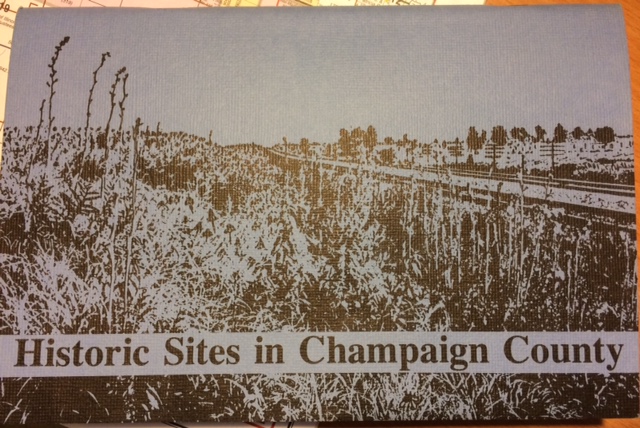 To commemorate America's Bicentennial in 1976, the Champaign Co. Bicentennial Committee published a 50-page pamphlet titled "Historic Sites in Champaign County." The book is a guide to 78 specific locations throughout the county, with a picture and brief description for each place designated as an official "Historic Site." Two centerfold maps, one for the rural parts of the county and one for Champaign-Urbana, provide locations for the sites.
Originally, each site was designated by a number that corresponded to a sign posted at the location. My destinations sometimes involved a bit of detective work (for places long gone), often was disappointing (finding cases of neglect or very recent demolition), but always intriguing and rewarding.
Last summer I set out to visit each of the sites to determine what is still around, what is not, and what condition existing sites were in. My adventure took me throughout the county, using current plat maps to find location of places more generally designated by the basic maps in the guidebook. I met a number of interesting people along the way, enjoyed some fascinating conversations, and made some unexpected connections between places that shaped our county's history and the people associated with them. My summer adventure ended with all rural sites visited (the first 34 of the 78 total in the book).
I just began my second summer of the project, visiting the remaining 44 Champaign-Urbana sites.  It seemed like a good time to look back over the highlights of last summer.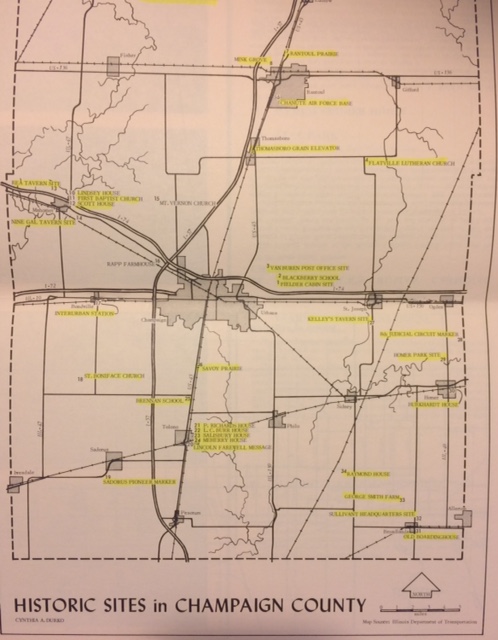 "Sites" where original structures no longer exist (15):
Fielder Cabin, Blackberry School, Van Buren PO (#1,2,3 in Urbana, Somer Twps..)
Thomasboro Grain Elevator (#5, Rantoul Twp.)
Mennonite Church/Dixon Schoolhouse (#9 in East Bend Twp.)
Lindsey House, Rea Tavern, Nine Gal Tavern (#10, 13, 14 in Mahomet Twp.)
Rapp Farmhouse (#16, Hensley Twp.), Brennan School (#25, Tolono Twp.)
Kelly Tavern (#27, St. Joseph), Old Homer Park (#29, South Homer Twp.)
Broadlands Boardinghouse (#31), Sullivant HQ (#32, Ayers Twp.)
George W. Smith Farm (#33, Raymond Twp.)
Intact structures (4 churches, 7 homes, 2 others):
Immanuel Lutheran (#4, Flatville), First Baptist (#11, Mahomet), Mt. Vernon UMC (#25, Hensley Twp.), St. Boniface RC (#18, Colfax Twp.)
Scott/Dollahon House (#12, Mahomet), Richards/Franks, Burr/Nicholas, Salisbury/Gardner, Meharry/Dowell Houses (#21-24, all in Tolono); Burkhardt/Taylor House (#30, Homer), Raymond House (#34, Raymond Twp.)
Chanute AFB (#6, Rantoul), Interurban station (#17, Bondville)
"Sites" with no structures:
Rantoul Prairie & Mink Grove (#7, 8 in Rantoul Twp.); also Savoy Prairie (#26)
Sadorus Pioneer Marker (#19); Lincoln Farewell Marker (#20, Tolono); Eighth Judicial Circuit Boundary Markers (#28, at Cha./Piatt & Cha./Vermilion Co. Lines)
#1, 2, 3 (sites only, no buildings) Fielder Cabin Site (NE ¼ Sect. 11 Urbana Twp) w/s of CR 1700E (N. Cottonwood Rd), 1 mi. north of U. S. 150 (said to have been "a few rods [rod = 16.5'] south of Blackberry School." Fielder "squatted" on the site, located between the old Ft. Clark Rd. (E. Anthony Dr. today) to the south and the "West Branch" (Saline drainage ditch today) in 1822, made improvements, and entered 80 acres into public record in 1828. He built a mill on the West Branch, but moved to Tazwell County by 1830. http://www.illinoisancestors.org/champaign/bios/earlyhis/roejames.html
Blackberry School Site (SW ¼ Sect. 2 Urbana Twp) w/s of CR 1700E (N. Cottonwood Rd), 1 mi. north of U. S. 150 (located "opposite Trelease Woods"). One room school built c. 1869 on the west edge of Big Grove, originally located on the east side of the road. It was moved to the west side after a new school was built c. 1894 and used for years as a storage building.      https://champaign.illinoisgenweb.org/schools/blackberry.html
Van Buren Post Office Site (W ½ SW ¼ Sect. 26 Somer Twp) e/s of CR 1600E (N. High Cross Rd.) just north of CR 1900 (Olympian Rd). The post office was located in the home of Matthias Rinehart near the old northern route of the Ft. Clark Rd, about a mile and ½ north of the West Branch (Saline).  When this area failed to be selected as the county seat in 1833, population shifted to Urbana, and this early post office closed in 1845.
#4 Immanuel Lutheran Church of Flatville (NW ¼ Sect. 34 Compromise TWP) SE corner jct. Co. Hwy 12 & 11 in Flatville. In the 1870s immigrants from East Friesa established the community of in this area that came to be known as the "Dutch Flats." The current Neo-Gothic structure is the third building of this congregation (and the first of the historic sites in the pamphlet still standing!). Here's an article commemorating the congregation's 100th Anniversary http://www.rantoulpress.com/news/living/2015-01-13/immanuel-church-congregation-mark-100th-anniversary-building.html
#6 Chanute Air Force Base (south side of Rantoul). Originally Chanute Field, built in 1917 as one of the earliest U. S. military flight training schools. The 10th Aero Squadron based at Chanute received the first planes in July 1917. Curtiss "Jennies" (JN4H's) were delivered in crates to Chicago, assembled, and flown to the field. In March 1941 the first all-black fighter squadron (later to become the famed "Tuskeegee Airmen") was activated at Chanute. The airfield and training grounds became Chanute A.F.B. when the Air Force became a separate military branch after WWII. The base was the headquarters of the Air Force Technical Training Command (my father trained there in Avionics and for the Atlas Missile Program in the late 50s, early 60s), later known as the Air Force School of Applied Aerospace Sciences. Chanute A.F.B. sadly closed in 1993. A hauntingly beautiful photo treatment of the vacated base can be found at Walter Arnold's wonderful site, "The Art of Abandonment" https://artofabandonment.com/2014/05/chanute/.
#9 East Bend Mennonite Church Site/Dixon Schoolhouse (NW ¼ Sect. 8, East Bend Twp; E/S of CR 700E, just north of CR 3450N, approx. 2 mi. north of present church site). Mennonites began to settle in this area in the early 1880s, and the East Bend Mennonite Church was organized in 1889. The congregation originally in the small frame Dixon Schoolhouse at this location until 1892 before moving to the first of several building erected at their current location at the northeast corner of CR 700E and CR 3300N. In the late 19th C. the original Dixon schoolhouse burned, and a second school was built one mile to the south (still standing, incorporated into a dwelling). The original Dixon School location is marked by an old, small white sign along the road. A brief history of the church is at http://www.eastbendmc.com/about/history/.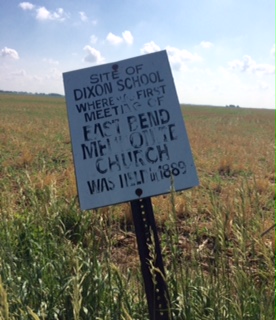 #11 First Baptist Church of Mahomet (402 S. Elm St., 1 block north of U. S. 150). Originally organized in 1939 as Bethel Missionary Baptist Church, the congregation settled on Middletown as a central location for worship. Town founder Daniel Porter hosted meetings in his home until a small meeting house was constructed in 1840. The first church building proper was a simple frame structure located at the southwest corner of Main and Lombard Streets. The current brick building was constructed in 1867, originally facing east and topped with a wooden steeple. In 1901 the building was remodeled with the entrance now facing northwest beneath a new brick steeply and belfry (Greg Pasley's "Diggin' up Bones" column in the Mahomet Citizen). A brief history of the church is at http://www.fbcmahomet.org/history.shtml.
#12 Scott/Dollahon House (401 E. Oak St./U. S. 150). Built in 1872, this was home for many years to Thomas Scott, whose father Fielding is credited with plowing the furrow from the Bryant Ford to Urbana to mark the location of what became the Bloomington Road. Scott, a distinguished Civil War veteran, died in 1902; his family occupied the home until the 1920s. Orville Rudolph
then purchased house, and the Dollahon family remained in possession until the 1990s. Lifetime Mahomet residents Fred and Emily (Moon) Kroner bought the property in 2004 and have given new life to both the house and surrounding grounds.
#14 Nine Gal Tavern Site (wooded area at the southeast corner of U. S. 150 and Sunny Acres Rd., Mahomet). This storied location is among the best known historic sites in the rural parts of the county. John Bryant and Malinda Busey (daughter of Isaac Busey) were the first couple to receive a marriage license in Champaign Co. (July 25, 1833). In May 1834 Bryant entered land at the W ½ of the SE ¼ of Sect. 14 along the Ft. Clark Road in then-Middletown (now Mahomet) township, just over ½ mile east of what came to be called the Bryant Ford on the Sangamon River. By 1836 the road to Urbana was known as the Bloomington Road, and the location of the Bryant home (and their prosperity) made it a natural gathering/resting place (though it is not documented as a tavern or inn). In 1848 Bryant purchased 40 acres to the south in Sect. 23, and the family was established there by 1850. In 1853 the original Bryant home was leased to Thomas Davidson, newly arrived from Ohio, and the documented history of the "tavern" begins. Davidson and his family operated the "Ohio Tavern" until 1856, complete with stories of "frequent" Lincoln stays. The property passed to B.F. Harris in 1863 after John Bryant's death. Stories of the "Nine Gal Tavern," whose proprietor is said to have had nine red-headed daughters, are the stuff of local legend and oft-repeated folk history, but no primary sources document its operations. For many years in the 1980s-90s, the Mahomet United Methodist Church put on a popular drama/dinner theater titled "Nine Gal Tavern" imagining characters from the era. The original Bryant building was razed in 1891 and replaced by the "Timber Edge Farm" residence (located slightly to the south). That structure, often cited as "the location of the Nine Gal Tavern," was still standing in the 1990s. Lenville J. Stelle's 1990 archeological study of the site provides much interesting detail (it also references the Rea Tavern and other documented tavern sites in the area between Urbana and Mahomet). http://virtual.parkland.edu/lstelle1/len/center_for_social_research/ninegal/sha9gal3.htm
#15  Mt. Vernon United Methodist Church (SW ¼ Sect. 9, Hensley Twp; northwest corner CR2200N & CR900E). Mt. Vernon Methodist Church was dedicated Aug. 14, 1874 and has been in continuous service ever since. The original structure, a simple meeting-house style building, had separate entrances for men (south) and women (north). Subsequent renovations and editions give the church a more New England chapel look.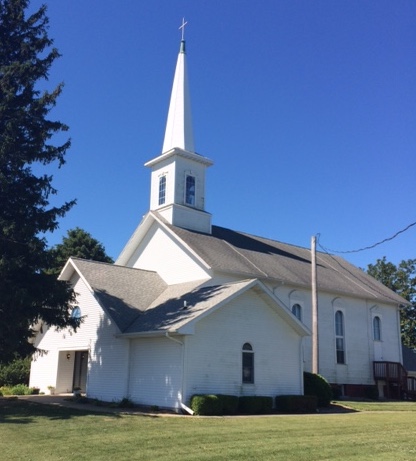 #17 Interurban Station, Bondville (northwest corner Market and Ash Streets). The "interurban" rail line from Champaign-Urbana to Danville, officially known as the Illinois Traction System, evolved from the C-U electric street railway developed by utilities magnate (later U. S. Congressman and Senator) William B. McKinley. The line formally opened October 3, 1903, and the line west to Bondville (and on to Monticello and Decatur) was completed in 1907. Passengers travelled the line until the 1950s, after which the Bondville station came to house the Fire Department. The building is currently owned by Premier Cooperative and used for storage. Learn more about the interurban system in Champaign Co. at http://explorecu.org/items/show/203
In Part Two, we will continue our tour across the southern half of Champaign Co.