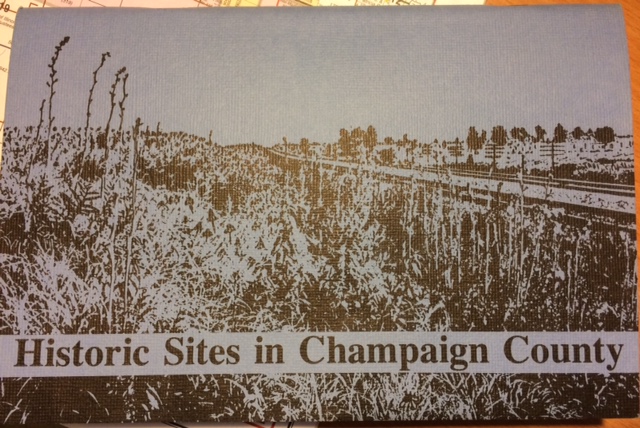 Picking up the story of last summer's history adventures, following the 1976 "Historic Sites of Champaign Couinty" guidebook.  See my last post for an overview of the project and for "highlights" of sites #1-17 (beginning north of Urbana and going on to Rantoul, Mahomet, and Bondville areas).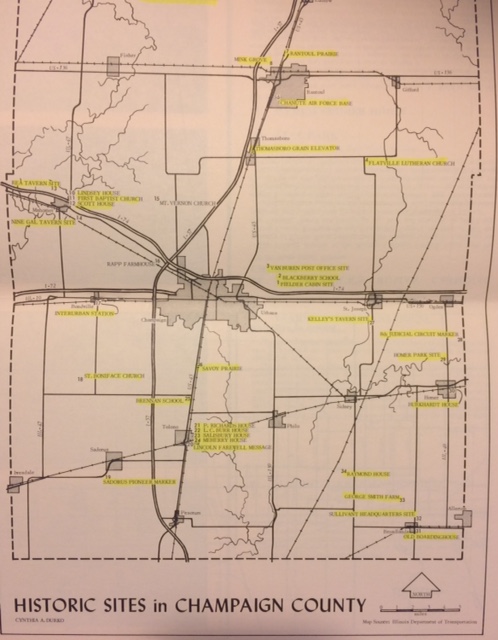 #18 St. Boniface Catholic Church (SW ¼ Sect. 2, Colfax TWP; 1 mile west of CR 500 on n/s CR 1100E). Heading south from Bondville on CR 500 (the original narrow concrete roadway can still be seen here), five miles brings you to the sign for St. Boniface Church. The current building, constructed in 1912, was designed by noted church architect George P. Stauduhar of Rock Island, replacing an 1880 frame structure. Stauduh#18ar received his architecture degree from the University of Illinois in 1888, and his papers and drawings are housed in the University Archives. He also designed St. Patrick's Church and rectory in Urbana, St. Mary's rectory in Champaign, and Catholic churches in Penfield, Rantoul, Ivesdale, and Philo. Learn more about Stauduhar's life and work at http://www.rigov.org/1076/Stauduhar-House-George-P-Anna-Stauduhar.
#19 Sadorus Pioneer Marker (w/s CR 600E/Co. Hwy. 19, just north of railroad tracks at the Sadorus Community Park entrance). Henry Sadorus settled on the west bank of the Kaskaskia River in 1824 in what is now Sect. 1 of Sadorus Twp., southwest of the present village that bears his name. At his death in 1878 at age 95, he was "the oldest inhabitant and the oldest person in the county." This 15-ton boulder, first situated near the original homestead, was first moved in 1909 to the family farm about 1 mile south of Sadorus, where pioneer reunions were held. In 1932 a bronze tablet was placed on the boulder "In memory of Henry Sadorus, first white settler in Champaign County, march 7, 1824." In 2002 the boulder was moved once again to its present location on the north side of town at the community park. Henry's grandson Frank Sadorus is known for his striking photographs of family and farm life at the turn of the 20th century. Learn more about Frank Sadorus and view a gallery of his photos at http://www.museum.state.il.us/ismdepts/art/sadorus/index.html.
#20  Lincoln Farewell Message Marker (e/s U. S. 45, just north of the RR overpass). The "Looking for Lincoln" marker https://www.hmdb.org/marker.asp?marker=23816 at the site states, "Even though Lincoln traveled through Tolono several times, February 11, 1861 was significant, for on that day he gave his last formal address in the State of Illinois while on his trip to Washington D. C., saying, I am leaving you on an errand of national importance, attended as you are aware, with considerable difficulties. Let us believe, as some poet has expressed it, 'Behind the cloud the sun is still shining.' I bid you an affectionate farewell. It was a dreary, dank, drizzly day. The station was crowded with people from all over the area who had assembled at the depot platform to bid Lincoln goodbye." The bronze tablet, set in stone, was originally dedicated July 11, 1932 at the railway station (the "Looking for Lincoln" marker shows a drawing of the old Marion House Hotel and Depot, an impressive multi-story building, which was located at the southeast corner of the junction where the Illinois Central and Wabash lines crossed). It was moved from the old railway station to the present location in 1993. The News-Gazette did a nice article on the site in 2009, which can be found at http://www.news-gazette.com/arts-entertainment/local/2009-01-05/stopping-tolono-marks-lincolns-last-stop-illinois.html.
#21-24 Four Historic Homes in Tolono.  Richards/Franks House (left photo below, 317 N. Bourne) originated as a three room built on this site in 1865.  It was later extensively expanded and remodeled by local businessman Patrick Richards. Richards had come to Tolono in the 1860s, establishing a drugs and sundries business in the town. In 1882 he held an open house to showcase his newly renovated home, in which he intended to retire. Instead, he later moved to Urbana and became President of First National Bank (Cunningham's History). The Frank family resided in the house when the 1976 historic site designation was established. It is now divided into three apartments.
L.C. Burr/Nicholas House (right photo above, 319 N. Vorcey). This modest home was built in "about 1872" with locally-sourced bricks. L. C. Burr owned a furniture store, was an undertaker, and served as Tolono's mayor for several years. During his time in office the city water works were established. Nicholas was the name of the family in residence in 1976. Current owner Amber Stewart was surprised to learn the home, which they purchased one year ago, was so historically significant.
Salisbury/Gardner House (left photo below, 112 E. Walnut). This classic Queen Anne home was built in 1894 by Thomas M. Salisbury, the first Cashier of the Bank of Tolono. Striking features include birdseye maple interior woodwork and fine leaded-glass windows. The design of the house is said to have been influenced by a similar home located in Washington Courthouse, Ohio (Salisbury's birthplace). The home was restored to its original glory when the Garner family purchased the home in 1949 (they were still in residence in 1976). The house was purchased by current residents Scott and Barbara Godlew in 2007, who had the site's deteriorated original marker sign replicated.
Wm. Meharry/Dowell House (right photo above, 305 N. Second). William Meharry, along with his younger brother Jesse, were prominent land owners and livestock farmers in Philo and Tolono townships. The brothers arrived in the area around 1865, each eventually purchasing homes in Tolono "finished and furnished in modern style, and everything about the premises indicates cultivated tastes and ample means" (see link below). William's grand Second-Empire residence was built "sometime between 1870 and 1872" with locally sourced bricks. The extensive grounds, surrounded by "an antique iron fence, still retains much of the character of the period in which it was built." No one was home at the time of my visit; I'm still tracking down the name of the current owners. The original historic marker sign at the front gate has been altered, now showing the name "Gere Thompson" (current owner?). Read William Meharry's bio at http://illinoisancestors.org/champaign/bios/pbaccil/meharrywilliam.html
#27 Kelley's Tavern Site (n/s CH 14/"Old State Road," just east of the Salt Fork River bridge; E ½ Sect. 22 St. Joseph Twp.). Here we find our fourth "Looking for Lincoln" marker designating the spot where one Cyrus Strong originally built a four room tavern "about 1840" (the marker on site says "1830s"). Joseph Kelley, son-in-law of John Vance (the local representative in the General Assembly proposes legislation establishing Champaign County), purchased the rough log cabin from Strong in 1849. He expanded it, added clapboard siding and a long front porch, and established a ford across the nearby Salt Fork River that carried his name. Other businesses soon followed, and the post office located at Kelley's Tavern was given the name St. Joseph's (later dropping the possessive "s"). When the railroad came through a mile to the north in 1869, the town relocated there. The building that housed the tavern, frequented by the circuit riding lawyer Abraham Lincoln, stood until it was torn down in 1914. Learn more and see pictures of Kelley's Tavern at the "Looking for Lincoln" page, https://www.hmdb.org/marker.asp?marker=23803
#29 Eighth Judicial Circuit Boundary Marker (N/S CH 14/"Old State Road," at the Vermillion Co. Line in Sect. 28 where Ogden & South Homer Twps. meet). This marker is the 9th of 18 identical markers erected in 1922 by the D. A. R and the Lincoln Circuit Marking Association to show the boundaries of the circuit travelled by Abraham Lincoln, 1847-59. Each marker is located at the place where Lincoln's route passed from one county to the next (the 8th marker is on the west side of Champaign Co. in Sect. 7 of Scott Twp. Where CR 1675N crosses into Piatt Co. ½ mile north of I-72). Learn more about the boundary marker history and project, and find a map, at http://quod.lib.umich.edu/j/jala/2629860.0025.106/–real-lincoln-highway-the-forgotten-lincoln-circuit-markers?trgt=fg_1;view=fulltext
#29 Old Homer Park (w/s of Ill. Route 49 at the Salt Fork River bridge, where Sect. 32 and 33 of South Homer Twp. meet). Moses Thomas established a mill on the south bank of the river, east of the present bridge, around 1829. He became "one of the proprietors of Old Homer," which was platted in 1837 by M. D. Coffeen & Co. south of the river "at the intersection of Sections 4 and 5, Town 18, and Sections 32 and 33, Town 19 . . . ." (Stewart's History). Similarly to Old St. Joseph, Old Homer's fate was sealed when the Great Western Railroad came through the area one mile south of the river in 1854. In this case, most of the existing buildings were actually moved to the railroad, hauled on sledge rails by oxen during the winter.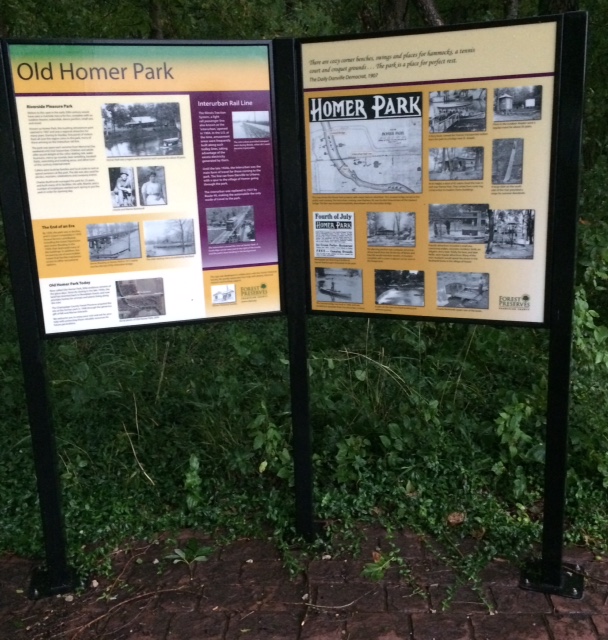 "Old Homer" gained a second life in the early 20th century when W. B. McKinley of the Illinois Traction System bought the ground in 1904. C. B. Burkhardt leased the land the following year, and in 1907 he opened "Riverside Pleasure Park." The ITS interurban line ran a spur to the park to encourage the use of the rail system. In its glory days, visitors could enjoy an outdoor theater, water slide, dance pavilion, roller-skating rink, ball fields . . . even a small zoo! Burkhardt managed the park until 1930, and by then it was in decline. The park closed in 1939, and the land is now owned by the Champaign Co. Forest Preserve. They've installed a nice interpretive marker just west of the highway on the north side of the river. Here's a couple of sites to find some great pictures of the park in its heyday. http://livinghistoryofillinois.com/amusement_parks/Riverside%20Park,%20Homer,%20Illinois%201905-1928/album/#slides/Riverside_Park_Homer_IL_13.jpg
http://urbanafreelibrary.org/blogs/2017/01/20/old-homer-park
#30 Burkhardt/Taylor House (205 E. Coffeen, Homer). Described in the 1976 guide as "a fine gothic house" looking much as it did in "a postcard view dated 1857," the house is now unfortunately in a state of decline. It was built in 1855 by a local attorney and sold to C. B. Burkhardt (later famous for managing the Old Homer Park). "Known locally as the house of seven gables . . . , the house has a spiral staircase of walnut [and] 12 rooms, each of which originally had a fireplace. Once the grounds covered half a block, and a large barn with a cupola stood behind the house. It was torn down along with a wing containing the servants' quarters, on the rear of the house." The Burkhardt family remained in the home until the 1940s; presumably Taylor refers to the residents at the time of the guide's publication. The old home's decorative gable lace and other exterior woodwork is now deteriorating, and it is surrounded by encroaching brush and overgrown trees.
#32 & 33 are two sites of special significance in Champaign County Agricultural History.  Sadly, both are gone.  Sullivant Headquarters represents the amazing career of Michael Sullivant from Columbus, Ohio.  He began purchasing land in Champaign Co. beginning in 1852, accumulating some 27,000 acres. He arrived in here in 1854 and built (acccording to Stewart's History) "a boarding house, with numerous barns and outbuildings, [along with a fine nearby residence] which he called 'Headquarters.'"  It was located just north Broadlands on the east side of present County Hwy 13  (NW ¼ Sect. 19, Ayers Twp.). "In a day when fenced fields were uncommon, he had all of his estate fenced into single farms no smaller than 640 acres. Almost 2000 acres were in corn, 300 in winter wheat, 40 in oats. He pastured 5000 cattle and 4000 rundown government horses" (Guide). Sullivant sold his Broadlands Estate to J. T. Alexander, another "cattle king" from western Illinois, in 1866. The entirety of Sullivant/Alexander lands in the area were liquidated in 1885, leading to the creation Ayers Twp. Named for the agent in charge of the proceedings, Ayers became the last of the county's rural townships to be established (McCollum's History).  A local farmer told me the building was probably torn down sometime in the 1920s. This was quite the place in the 19th Century and is definitely worthy of a State Historic Site designation.
George W. Smith was one of the first African-Americans to settle in Champaign Co. Born a slave in Tennessee in 1835, Smith served the Union Army as a guide in the Civil War and came to Springfield with Gen. John A. McClernand in 1863. There he married, and in the spring of 1876 the couple moved to the Broadlands area to farm. That fall he purchased his first 80 acres in Raymond Twp. northwest of Immanuel Lutheran Church. Farming with his son, John, he eventually came to own the entire quarter section, building a fine home in 1905 on the property (SE ¼ Sect. 12, Raymond Twp.; nw of Immanuel Lutheran Church at CR 400N & CR 2400E). An interesting note from the 1976 Guide: "John Smith's interest in horses and his frequent competition in English pleasure classes at shows in Illinois and Indiana is commemorated annually by a horse show in his honor." The SE ¼ of Sect. 12 is all farmland now, with no remaining buildings, but my 2007 plat book still shows the land in the name of John M. Smith. Learn more about the extraordinary life of George W. Smith at . . . http://www.illinoisancestors.org/champaign/bios/pbaccil/smithgeorgew.html and https://localwiki.org/cu/George_W._Smith
#34 Raymond House (SW ¼ Sect. 4, Raymond Twp.; east of CR 2000E about ¾ mile south of Block). Nathaniel Raymond came from Raymond, Ohio, in 1864 and settled on this property. "He sited his house on top of a hill, and created a tree-lined lane to connect the house with the section road to the north. Raymond brought with him seeds and seedlings from Ohio and New Hampshire, and gathered walnuts in Lost Grove [4 miles to the east] to create this lane" (Guidebook). The original lane to the north is gone, but many of the grand walnut trees remain, giving the home its name" "Walnut Hills" (presently a long lane extends west to the county road). When Raymond Twp. was separated from Sidney Twp. in 1869, Nathaniel became its first commissioner. In 1884 his son Issac assumed possession of the homestead and began construction on a two-story addition, a "larger, bracketed structure . . . featuring carved woodwork with incised designs of Gothic motif." This addition was completed in 1891.
When current owners Sue (a direct descendent of Nathaniel Raymond) and Martin Cutter obtained the property in 1997, it was vacant and had been abandoned for many years. The oldest section of the home was too far gone to salvage, but it has been replicated as true to the original as possible. The 1891 addition was restored, taken down to the studs and renovated with period-style windows and beautiful woodwork reproductions. From its hilltop setting, Walnut Hills holds a commanding view of the surrounding farmland to the north and west. Finding this home intact and visiting with the Cutters has been the most delightful stop in my summer adventure so far! Here's a bit on the life of Nathaniel's son Isaac, described as "among the first to enter . . . the [new] State University at Urbana." http://www.illinoisancestors.org/champaign/bios/pbaccil/raymondisaacs.html
Watch for posts on my Facebook Page (Rick D. Williams) as I visit sites #35-78 in Urbana & Champaign this summer!