This post is part of an on-going series, The Odyssey of Captain America, which follows Steve Rogers' life and times as the Living Legend.  This segment continues to look at modern-era, retro-continuity stories that relate Cap's earliest WW II experiences.
While Golden Age CAC covers celebrated Cap's exploits during the war (and even before!), the stories themselves were typical "comic book hero" tales. Caricaturized Nazis and "Japs" (along with assorted monsters) took the place of criminals and saboteurs, but there was little exposition of the harsh realities of war. This was partly because the youngsters who comprised most comic readers wanted super-heroics, while the growing audience of young soldiers read comics to escape from reality. Most Invaders stories mirrored this Golden Age "feel."
Modern ret-conned stories set in WWII, however, dug deeply into the gritty realities of Cap's war-time experiences and their effect upon him and young Bucky. While no less "heroic," they are certainly more cinematic that fantastical. They also tend to provide more specific dates for the actions being depicted. Reflecting later on one of his earliest combat experiences from early 1942, Cap remembers: You were nineteen the first time you felt this. This disbelief. This anger. Eyes stinging. Throat raw. You'd had the body almost a year. The training. You had scars. But you weren't a soldier . . . until that day.[1]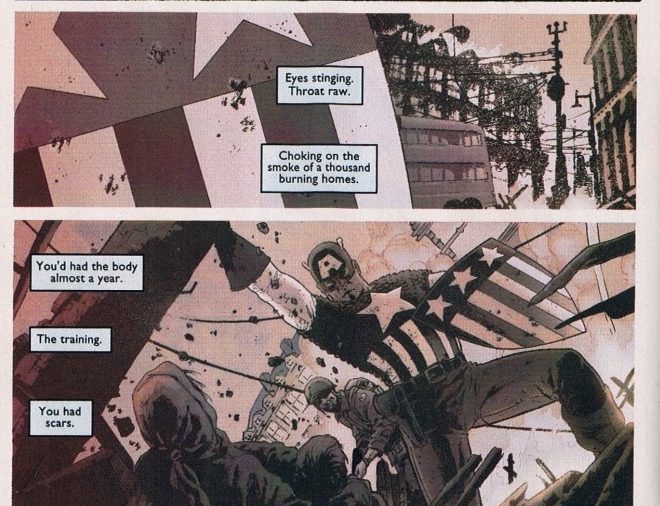 Art by John Cassaday.  CA vol 4 #2 (above); CA Sam Wilson #7 (below)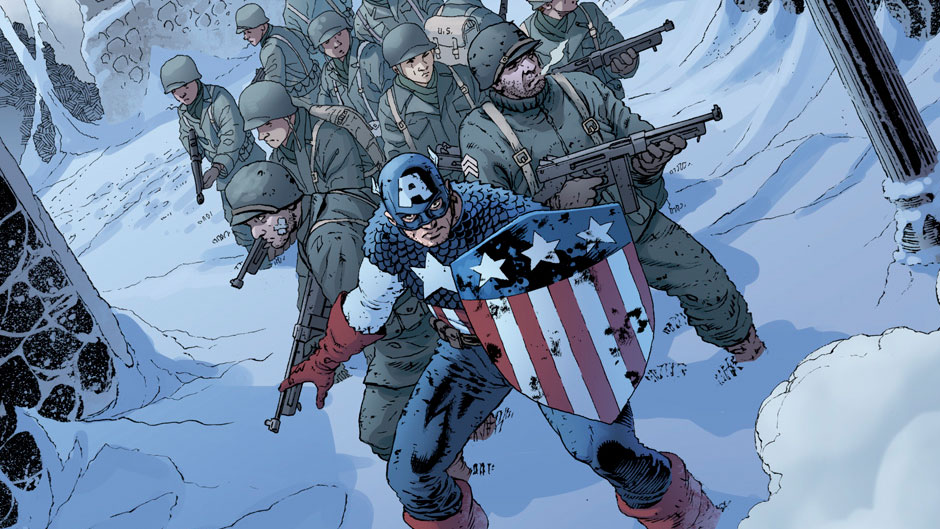 In what may be the same early mission recalled above, Cap shown in action in Coignieres France working with an army unit to defend the townspeople from a Nazi advance. Debriefing after the mission, he's told by officers of a plan to enhance the iconography of his image with a special weapon: the "Amerigun."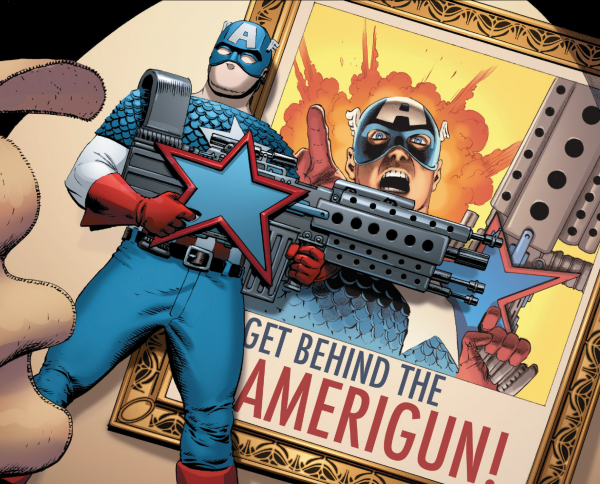 Steve is not impressed, insisting all he needs is "the Shield." The gathered Brass and PR men respond, "The Shield reads weak." Steve reacts,
Weak? I think you boys need to bone up on your iconography. We're not conquerors. We didn't come here to take something. We came here to protect something. You wanna send a message? A Shield.
Perhaps this is the genesis moment for the iconic disc shield?[2]
 Also in 1942 Cap, Bucky, and a squad of soldiers are "somewhere over Europe," preparing to parachute into a mountain facility in the Alps where "Hitler's scientists are hard at work on something called the Sleepers" (CA 70th Anniversary Special, 2009). In a similar mission, Cap parachutes into action after inspiring some young soldiers with thoughts of what's "worth fighting for."  As he descends, thoughts come to mind:
No one cares about the words that spill out of Steve Rogers' mouth. He's just a kid himself, almost as green as any of these paratroopers. Without the super-soldier formula in his blood, Steve Rogers is a sickly, skinny kid who's just as scared as any other man wearing a uniform. But Captain America can inspire them. And when he can't inspire . . . when he can't find the words . . . he can rally them through action.
On the ground, he meets up with Namor to crash an installation of the Thule Society, where they find the occult group in possession of "an artifact of Lemurian origin and great power" called the Kraken.[3]
Cover art (left) by Brian Ching & Michael Atiyeh; (right) by Marcos Martin
Cap, Bucky, and Torch are on a secret mission in Japanese-occupied Shanghai sometime in 1942. They are tasked to save a young Chinese science prodigy, Zhang Chin, hiding from the Japanese. Chin's encounter with the Invaders, especially his fascination with the Human Torch, will lead to his work developing a "super-soldier" for Red China that draws on the Torch's synthetic physiology.[4]
In the All-Winners Squad: Band of Heroes limited series (5 issues, 2011), Cap is given command of a unit of young, super-powered soldiers comprising "a specialized ranger unit attached to the 101st Air Assault Division." This "Specialized Unit, Enhanced Soldiers" (fondly called the "Crazy S.U.E.S.") was formed "to conduct combat operations deep behind enemy lines." On Aug 7-13, 1942, Cap is in the Pacific at Guadalcanal with the "Crazy S.U.E.S." He led the group until "after we passed through the Ardennes" (Battle of the Bulge, Dec. 1944).[5]
Cover art (left) by Mico Suayan & June Ching, (right) by Brian Stelfreeze
In Sept. 1942, Cap is expected in Portugal to lead a team of Black super-soldiers a mission into Germany to shut down the German Super-Soldier project. Instead, he's "delayed by a monsoon in the Pacific Theater" and the mission is assigned to Isaiah Bradley, the last surviving Black Super-Soldier (Truth: Red, White, and Black #5-6, 2003). By early November Cap & Bucky are on the Russian Front, working with the Invaders and the Soviet army to uncover "a secret super-weapon" in the hands of the Red Skull in a village named, "Kronas" (CA #5, May 2005).
Cap makes a couple of appearances in the North African Campaign. He's with the First Infantry Division in Algeria ("The Legend and the Lore" story in CA: Red, White, & Blue) and the 26th Infantry in Tunisia (Mythos CA, 2008). In "real life," the First Division arrived in Algeria Nov. 8, 1942 and was in Tunisia Jan-May 1943. By July they were in Sicily. The battle shown here takes place on Monte Morte, described as "an Axis-held island in the Mediterranean" which fits this timeframe, but it shows Cap with an unusual single-star variation of his original triangle shield design.
Back in Germany, Cap and Bucky team up with the original Citizen V (John Watkins) and his wife (Paulette Brazee), then undercover as the Nazi "She Wolf," against Baron Zemo.[6] A "rare picture of Captain America in action" dated 1942 (November in "real life") shows the Living Legend landing w/troops at Guadalcanal (CA #600, 2009—an interesting story featuring CA memorabilia being auctioned off about a year after his "death").
[1] CA vol 4 #2 (July 2002), John Ney Rieber. Cap remembers this baptism by fire in the midst of battling a post-9/11 terrorist and his men. John Cassaday's illustrations nicely juxtapose color images of the "present" with black and white renderings of Cap's memories (shown with his original triangle shield).
[2] "Presentation," in CA: Sam Wilson #7 (May 2016), Joss Whedon. John Cassaday's art, including his rendition of Cap's original helmet and triangular shield, is very similar to the above story.
[3] CA & Namor 635.1 (Oct. 2012), Collin Bunn. Namor and Cap destroy the mask, but the story concludes in the "present" with a mysterious group called "The Covenant" who now control the Kraken, having pieced the mask back together.
[4] CA vol. 5 #43 (Dec. 2008), Brubaker. Chin's life-long quest and its consequences for Bucky and the Torch in 2008 are related in CA #44-48.
[5] Series written by Paul Jenkins; quotes from issue #1-2 (Aug.-Sept. 2011).
[6] CA/Citizen V Annual (1998). This flashback takes place at Zemo's castle, where he kills Watkins. See appendix for more on the many iterations of Citizen V. The OIMU #13 sets this story before CAC #21, placing it in 1942.