This is the final part of a six-week program, "Worldview as the L.E.N.S. of Life," given at Life Community Church in Mahomet, Illinois
A healthy Biblical Worldview embraces the diverse ways God has gifted us to understand and navigate the world around us. The Gospel is the essential human story from Creation to Covenant to Christ to Church to Consumation.  It makes fullest sense of the Created order: it provides the fullest meaning and understanding to the Big Questions of life; it gives fullest expression to our deepest needs and longings. As Christ's Church, we are all called to be "salt and light," bearing and embodying God's Truth in our fallen world
The identity, incarnation, ministry, death and resurrection of Jesus as the Christ is the ultimate "hinge of history"; the fulfillment of God's design, purpose, sovereignty, love, and grace. A Gospel understanding of the world animates and reveals the Truth in the previous 4 themes of this series, while also providing the wisdom and discernment needed to navigate their claims in this fallen world.
In each previous discussion, we've looked at three ways we "know" the world (let's give them a name)
Idealism: knowing through reason, logic, intellect. In this way of knowing the senses serve "Thinking Man." We draw universal explanations from particulars in experience. This is the rational aspect of our identity—the basis for philosophy.
Realism: knowing through experience and the senses. In this way of knowing, senses and experience have primacy over reason, which serves to process, categorize, analyze experience. Universal experiences lead us to particular expressions of truth we call "facts." This is empirical aspect of our identity—the basis for science.
Intuition: knowing through our imaginations and feelings. In this way of knowing, emotions, revelation, and faith transcend the limitations of Idealism & Realism. Universals truths are rooted in "essences" that undergird the particulars we experience and try our best to explain (they point us to something!). This way of knowing is a paradox: feelings and emotion alone can direct us to inward truths—this is romantic aspect of our identity. But faith and imagination can lead us to look outside of ourselves for answers—this is the religious aspect of our identity.
For most of human existence, this last way was considered to be a perfectly valid a way of knowing—perhaps the best way to know the most important truths. In more "modern" times, reason and science have gained exclusive claim to "Truth for All"; while emotion, imagination, faith are merely "Truth for You."
Notice, though, how God created us with the capacity for all of these ways of knowing. We have Bodies (allowing us to experience the world through our senses. We have Minds (allowing us to understand the world through our reason). And we have Souls (we respond to the world through our emotions).
Plato described the human identity with a three-part image. Our head represents the mind, intellect, reason—our faculty for knowledge. Our chest represents emotions, feelings—our strength of will. Our abdomen represents our appetites and desires—the needs of our bodies. His idea of "soul" was expressed in the cultivation of virtues that rightly oriented ourselves toward transcendent truth, goodness, beauty.
Knowledge is perfected in wisdom (do not be conformed to this age, but be transformed by the renewing of your mind, so that you may discern what is the good, pleasing, and perfect will of
Will is perfected in prudence (My goal is to know Him and the power of His resurrection and the fellowship of His sufferings, being conformed to His death—i.e., sacrifice before self)
Appetites restrained by temperance (As obedient children, do not be conformed to the desires of your former ignorance)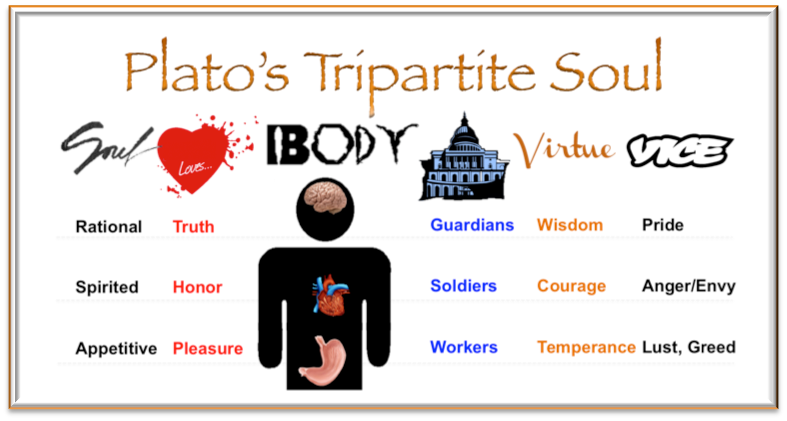 The "wisdom" of Greeks is certainly valuable in pointed to a life rightly lived, but in the context of the Kingdom it is ultimately insufficient for transcending the consequences of sin in our lives and in the fallen world we inhabit. When we are redeemed by faith in Christ, the Holy Spirit enables by God's Grace us to "walk according to the Spirit" and not in "the flesh" (Rom. 12:2; Phil. 3:10; 1 Pet. 1:14). Thus . . .
For though we live in the body, we do not wage war in an unspiritual way,  since the weapons of our warfare are not worldly, but are powerful through God for the demolition of strongholds. We demolish arguments and every high-minded thing that is raised up against the knowledge of God, taking every thought captive to obey Christ. (2 Cor. 10: 3-5)
Without this integration of the physical, mental, and emotional aspects of our identity, we fall short. Our minds will focus at best on knowledge as the highest good. Our bodies will seek only pleasure. Our souls will be defined by our feelings.
Our true identities are not merely rational, nor physical, nor emotional. We are made in God's likeness: we are like Him. That means, like the Trinity, we are relational. We can see the relational aspect of God's character reflected in the three primary facets of philosophy:
Cosmology (the nature of existence) Father = Source; Son = Means; Spirit = Presence
In Him we live and move and have our being
Because we are made in His image, we are drawn toward the Beauty of God!
Ontology (the nature of reality)        Father = Creator; Son = Orderer; Spirit = Sustainer
God who made the world and everything in it—He is Lord of heaven and earth . . . He gives everyone life and breath . . . He has determined their appointed times and the boundaries . . . He did this so they might seek Him, and perhaps they might reach out and find Him, though He is not far from each one of us.
Because we are made in His image, we are drawn toward the Goodness of God!
Epistemology (the nature of knowledge)  Father = Author; Son = Word; Spirit = Discernment
Being God's offspring then, we shouldn't think that the divine nature is like gold or silver or stone, an image fashioned by human art and imagination. Therefore, having overlooked the times of ignorance, God now commands all people everywhere to repent, because He has set a day when He is going to judge the world in righteousness by the Man He has appointed. He has provided proof of this to everyone by raising Him from the dead.
Because we are made in His image, we are drawn to the Truth of God.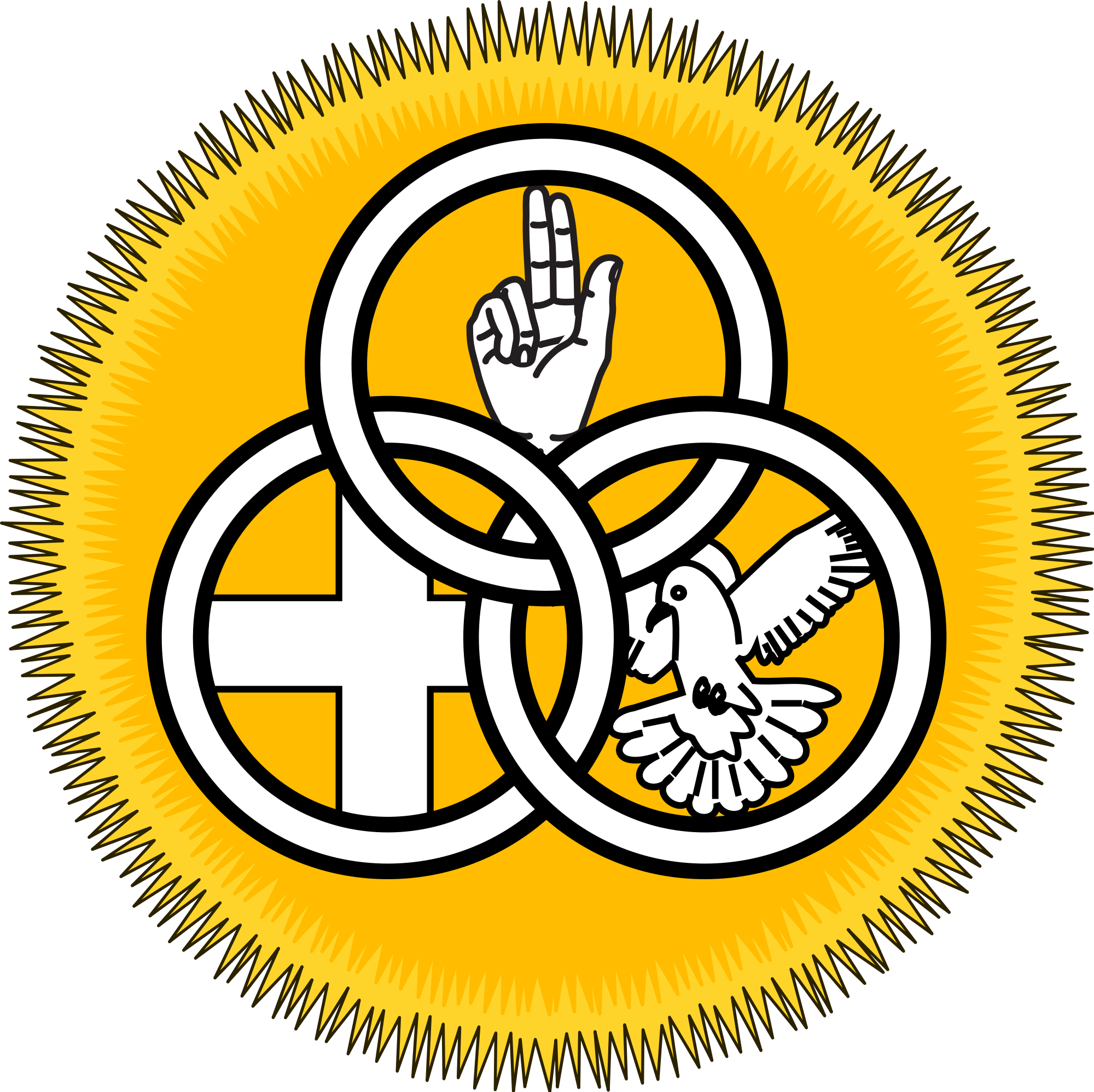 In thinking about worldview, I'm always drawn back to what Jesus says (in Mark 12 and Matt. 22) "is the most important" thing to know . . .
Listen, Israel! The Lord our God, the Lord is One. Love the Lord your God with all your heart, with all your soul, with all your mind, and with all your strength. The second is: Love your neighbor as yourself. There is no other command greater than these.
We love God—and our neighbor—by faithfully bearing witness to God's existence, the reality of His created order, and the ability of every human being to truly know Him. Only then can we—and our neighbor—know who we truly are, how things are really supposed to be, and what is The Way to making things right again.