This post is part of an on-going series, The Odyssey of Captain America, which follows Steve Rogers' life and times as the Living Legend.  This segment continues to look at modern-era, retro-continuity stories that relate Cap's earliest WW II experiences.
Cap and Bucky are stateside on January 7, 1943, rushing to the New Yorker Hotel to the bedside of famous inventor and electrical engineer, Nikola Tesla.  Upon arriving, they find a group of saboteurs and Nazi ubermench Master Man ransacking Tesla's room.  After they flee, Tesla reveals that the intruders have stolen plans for "an invention that destroys airplanes from a distance," and then he dies.  Cap & Bucky go to Spain to investigate a letter sent to Tesla that indicates a link between his research and Zemo's "Death Ray." The letter turns out to be from Zemo's wife, Hilda, who has fled Germany but agrees to help the heroes sneak into Berlin to stop her estranged husband.  Unfortunately Hilda dies when Cap & Bucky face off with Zemo and Master Man.  Their encounter takes place just as a major bombing raid of Berlin happens.  Master Man & Zemo appear killed; Cap and Bucky barely escape; and a distraught, angry young Helmut Zemo survives to carry on his father's legacy.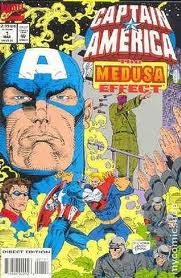 March 1943 On Bucky's 18th birthday he and Cap are in occupied Poland with the Invaders tangling with Master Man and Warrior Women (CA #50, 2009).  Sometime during this month, Cap and Bucky are in Suffolk, England to be briefed on a mission.  "The Nazis have started up a massive dig in the French countryside, right outside of Lyon."  Atticus Trask, Hitler's "new wonderkind," is overseeing the burial of weapon that will be "put to sleep" now . . . and wake up years later" (Trask, it turns out, is from the future). "We think it has something to do with robots.  Sleeper robots."  At the scene, Cap and Bucky encounter both Trask and the huge robot (which looks suspiciously like a mutant-hunting Sentinel) and another time-traveler:  Cable.  "You just aren't the sentinel I expected to find here," Cable remarks. The trio work together to destroy the robot and capture Trask.  During the fight, Cable comments on Cap's lack of concern for the young Bucky.  "You don't know how this works, do you?"  Cap responds.  "The reason I'm out here dressed like this, waving a flag in the enemy's face . . . its' all a distraction so that Bucky an get the real job done" (planting the charges that destroyed the robot).  Great closing comment by Bucky—"You see that robot arm he had?  Imagine what I could do with one of those babies!"[1]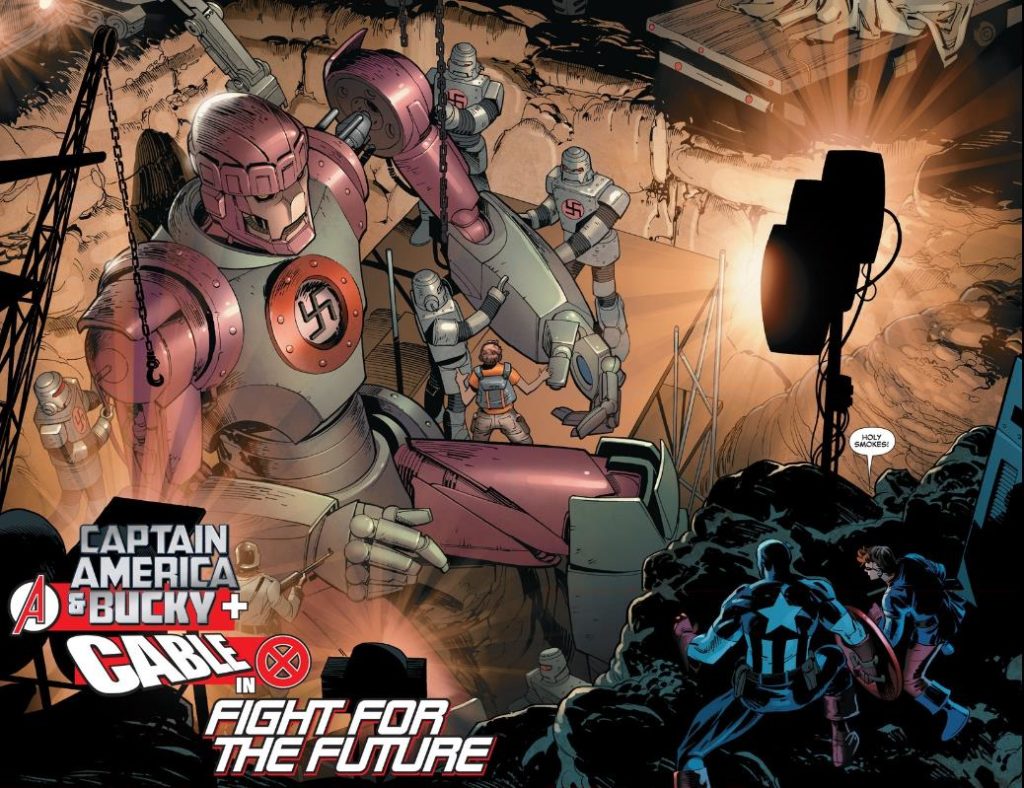 Leonard Spellman, director of CA: The Movie (being filmed at the time), recalls in a flashback memory Cap coming to the rescue of his military unit "caught behind enemy lines" in Europe in 1943, pinned down by the Red Skull "testing out some new death ray" (CA # 262, 1981).  Some other time the same year (perhaps on the previous adventure), Cap is said to be "after the Red Skull or Zemo" while his fellow Invaders are sent on a secret mission to stop Baron von Strucker and Nazis from using a device called the "God Whisperer."[2]
In October or November 1943, Cap is at Camp Lehigh, where he receives orders from FDR to travel to Hollywood, where the film serial "The Adventures of Captain America" is being shot by "Democracy Pictures." Cap & Bucky encounter Lyle Dekker, a special effects man who is actually a Nazi spy under orders from the Red Skull to sabotage the film in hopes of luring Cap. Dekker fails and appears to die at the story's end.[3]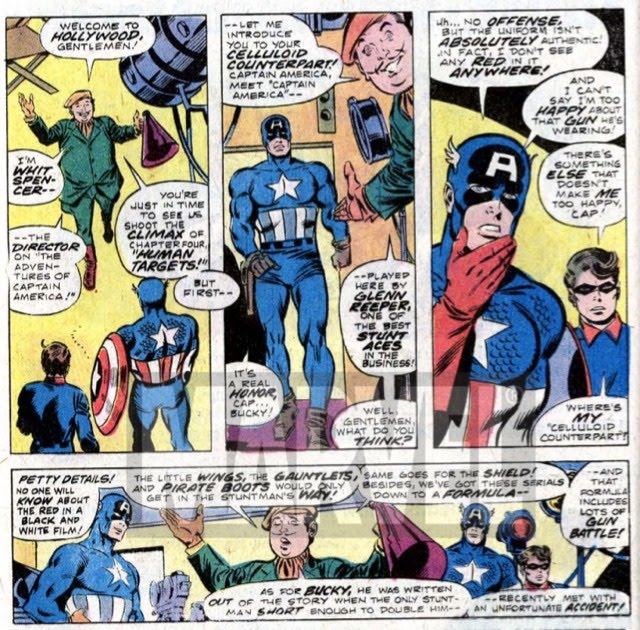 ---
[1] A+X #1 (Dec. 2012), Dan Slott. This story has some similarities to the one told by Brubaker in the CA 65th Anniversary Special (2006), which involved Cap and Bucky in another "buried sleeper robot" tale. Brubaker's story took place in April 1944 [see above] and was set in Germany. The "Iron Monster" did not have any physical similarities to the Sentinel sleeper in the A+X story (aside from being big!).
[2] Flashback in All-New Invaders #2 (April 2014, James Robinson). Replacing Cap on the mission is Major Liberty, who originally appeared in U.S.A. Comics #1-4 (1941-42). The weapon can enslave Asgardians, forcing them to fight for the Nazis. Major Liberty is killed; Namor, Torch, and Bucky secure the device, separate it into 3 parts, and hide them around the globe. Cap is never told of this mission, which comes back to haunt them in 2014.
[3] CA #219 (March 1977). This 1944 flashback adds more details to war-end death and later recovery recounted in Avengers 4 (more on that to come). It pays homage the real-life 1944 Republic Pictures film of the same name.