This story first appeared in the online magazine Smile Politely on August 11, 2020
With the start of a new academic year just weeks away, local school districts are scrambling to develop plans for COVID-era instruction. These are indeed unprecedented – one might say historic – times for local education. I thought this might be an interesting time to look back at the early years of schooling in our community and visit some of the historic structures where students once experienced, and some still do, their "school days."
According to J. O. Cunningham's History of Champaign County, "pay schools" began cropping up in the area during the 1830s. Parents paid subscriptions to tutors for their services. Instruction might take place in homes or in the log schoolhouses and occasional frame structures scattered around the county.
In Urbana, the construction of the first courthouse in 1841 allowed for its use as the city's first schoolhouse as well. This one-story frame 20' x 40' building did double duty until a new brick courthouse was constructed in 1848. The old frame building was moved to the southeast corner of Green and Race streets, where it continued as a school until the Methodists built a church on that spot in 1856.
By then, two things had happened which led to a major shift in local education. In 1855 the Illinois General Assembly passed the Free School Act, establishing a statewide system of public schools. That same year, local Methodists funded the construction of a fine new building to house the recently organized Urbana Male and Female Seminary. This New England style building (below) with its impressive front cupola sat where Leal School is now on land donated by James Busey, bounded by Oregon, California, Birch, and Cedar streets.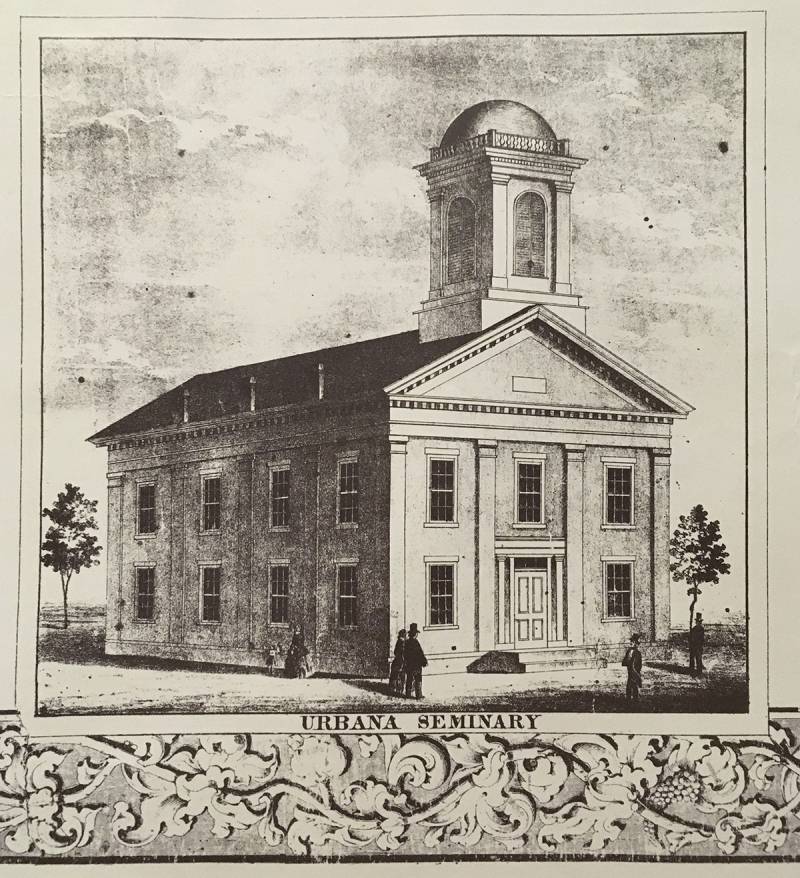 An online history of Urbana High School relates, "Because of insufficient funds to operate the academy, it was sold to the citizens of Urbana for $5,000 to be used as a public school. The upper floor of this building was used for the secondary school classes with the primary and intermediate grades on the first floor. Mr. T. R. Leal was the first principal." After this building was destroyed by fire in 1872, the original Leal School was constructed on the same site.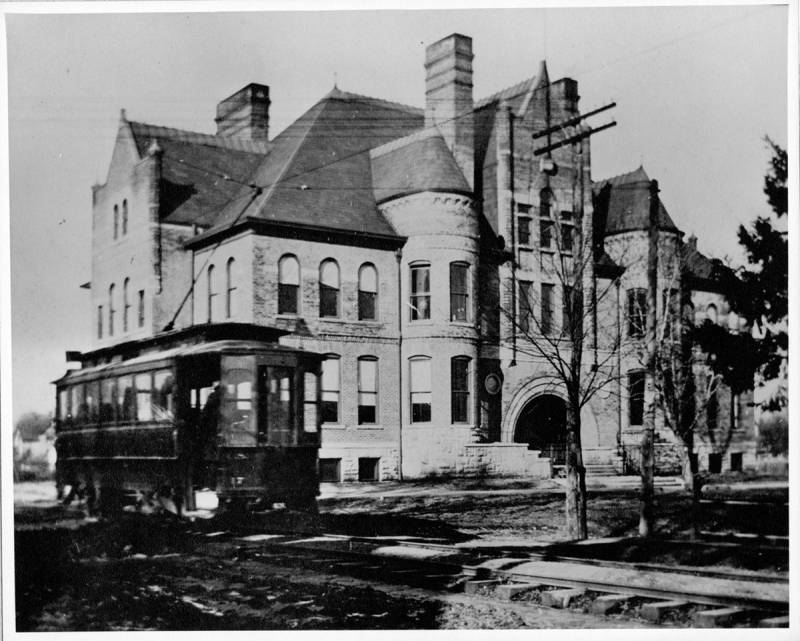 Secondary education in Urbana moved to a new location with the construction of a high school on land donated by John Thornburn situated on the banks of the Boneyard Creek. Thornburn was an Urbana banker who seems to have later mishandled school district funds. The beautiful building he helped make possible sat at the northwest corner of Springfield Avenue and McCullough streets where the Phillips Recreation Center is now. Thornburn School became a junior high when the current Urbana High School building was constructed in 1914.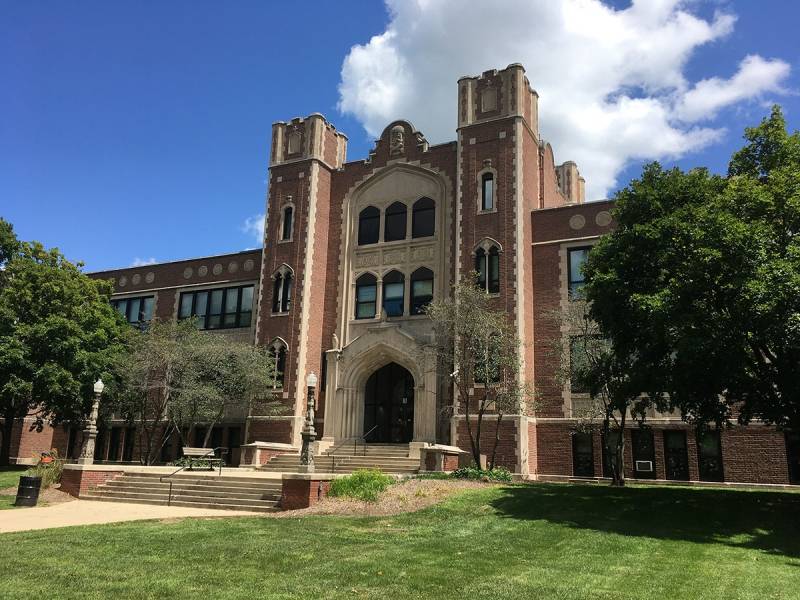 The 1914 High School, which still stands proudly today, was designed by Joseph Royer in the Gothic revival style. Its unusual E-shaped footprint was an innovative design for academic architecture at the time. A 1925 expansion added a gymnasium, locker rooms, and one of the first high school swimming pools in the state.
Shortly before the new high school was built, several neighborhood elementary schools were constructed in Urbana. Webber School was built in 1905 112. S. Webber Street. It was replaced by a one-story modern building in the 1960s (now the home of Campus Middle School for Girls). Lincoln Elementary was an imposing square brick building that sat at the northwest corner of Main and Lincoln. It was two stories tall with a full basement and gabled attic space. Lincoln School was demolished in 1983.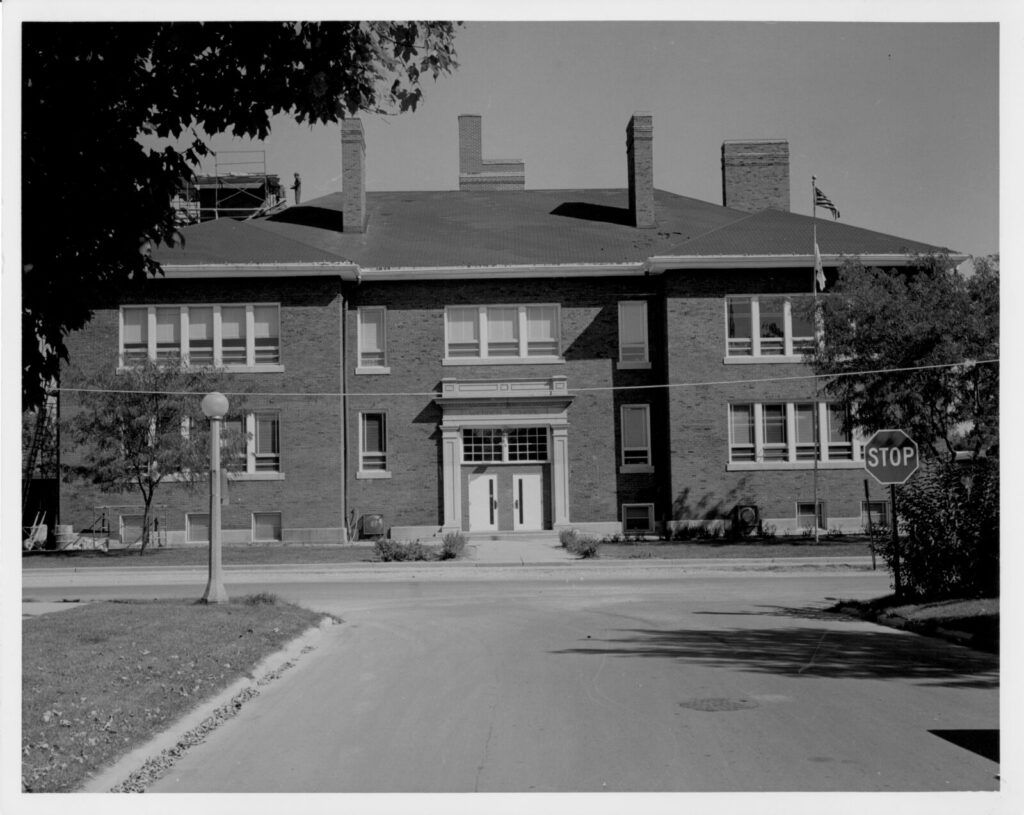 Hays School was built in 1908 at the northeast corner of Fairfield and Goodwin. It was renamed Dr. Martin Luther King, Jr. Elementary in 1970 and replaced during a major renovation in the early 2000s. Hays School was the only integrated elementary school in Urbana prior to the 1950s, with generally about equal numbers of white and Black students in a given academic year.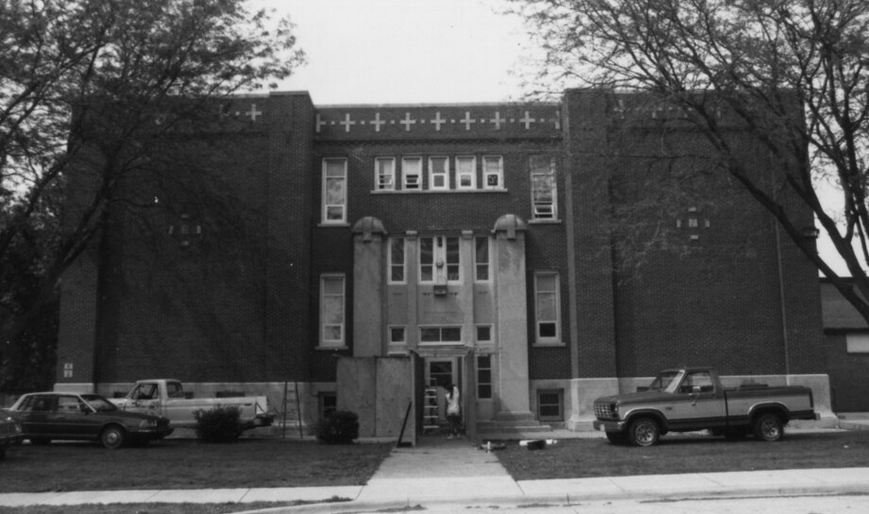 In 1925 Washington School was constructed high atop the hill on Broadway overlooking Crystal Lake Park. This building most recently housed Urbana's Early Childhood Education center. It has sat vacant and for sale since the ECE center moved to a new building on East Washington Street in 2013.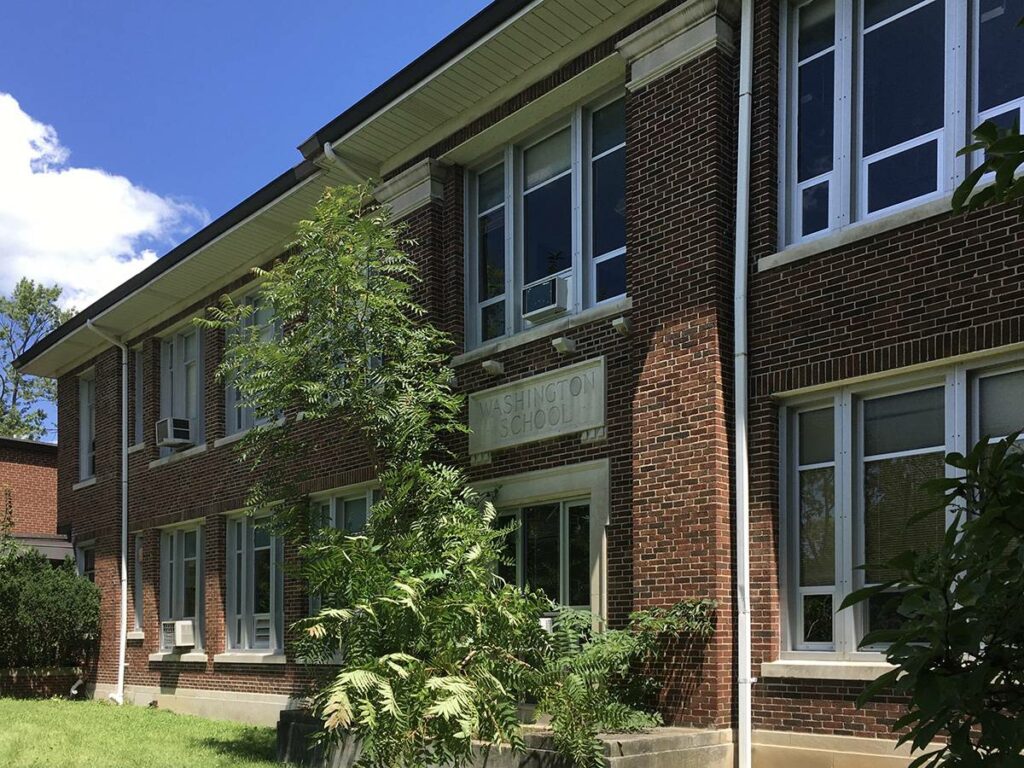 The last pre-WWII school built in Urbana has its roots in the beginning of our story. As related earlier, the original Leal School was built in its current location when the Seminary building there burned in 1872. Early on, it was called the Oregon Street School, but it was later renamed Leal School in honor of Thomas R. Leal, district superintendent from 1857 to 1873. That building was torn down in 1835 to make way for the present building, which was constructed as a Public Works Administration project during the "New Deal" era.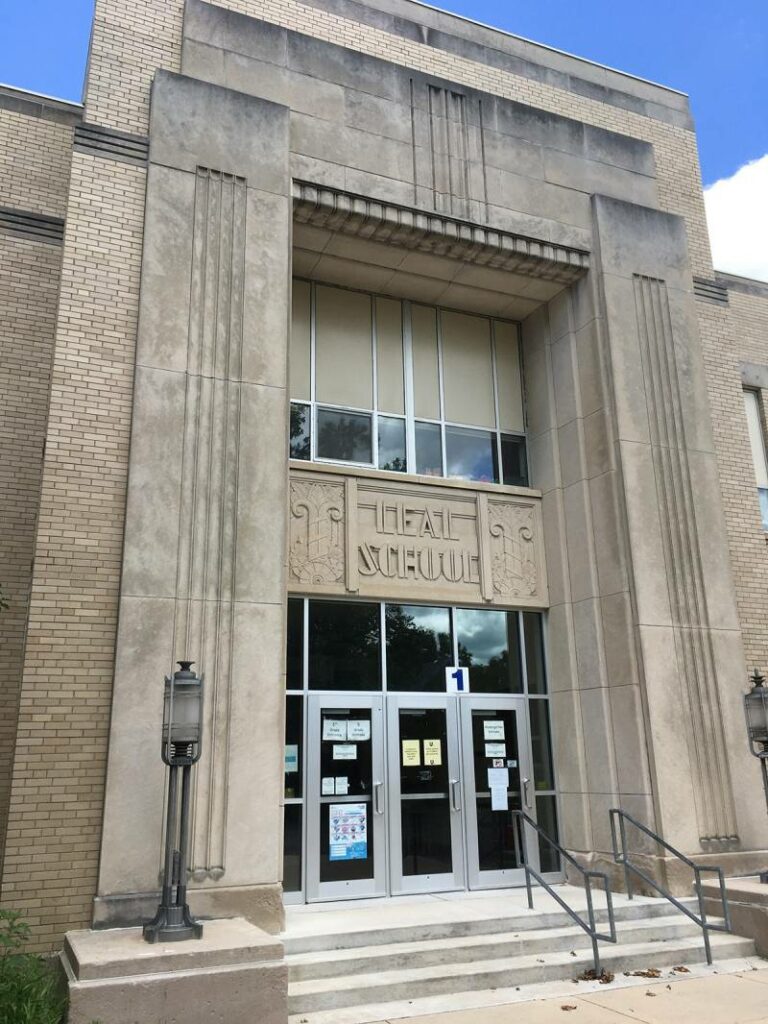 Wonderful pictures of these historic Urbana public schools and classes that attended them can be found at the "Urbana Schools Past and Present" digital photo archive on the Urbana Free Library website.
One last historic school in Urbana is located on the University of Illinois campus. University Laboratory High School (1212 W. Springfield Avenue) was designed by the famous Chicago architecture firm of (William) Holabird and (Martin) Roche. Construction started in 1917 during the First World War, and when the building was completed the following year it was first used as a general hospital for the Students' Army Training Corp and School of Military Aeronautics. It began operations as a school in the 1921-22 school year.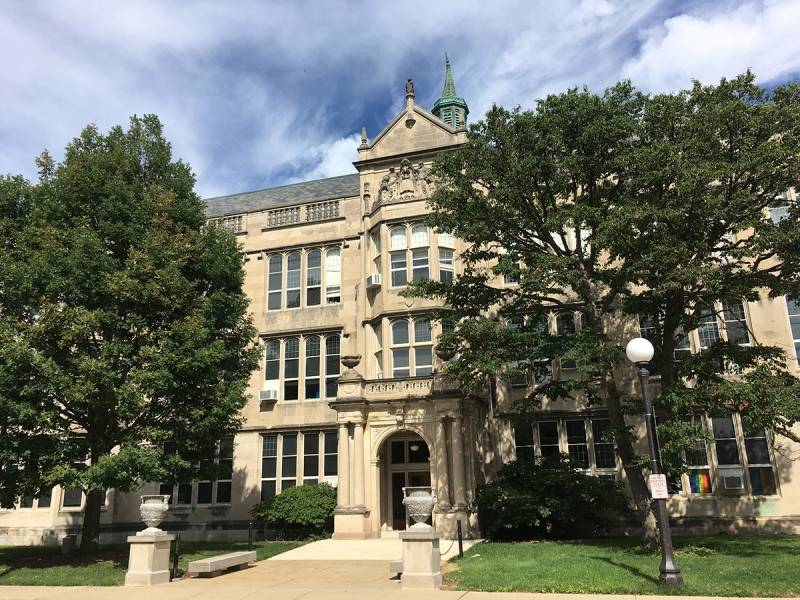 The Late Gothic Revival style of this impressive structure simply oozes academic gravitas. Uni High began as a preparatory academy where students as young as 15 could begin focused studies in advance of taking college degrees. Over nearly a century of education, three Nobel laureates, a Pulitzer Prize winner, and numerous National Merit Scholars have made their way through Uni's halls and classrooms.
Meanwhile, the railroad town of West Urbana, now Champaign, was taking shape the same year the General Assembly passed the 1855 Free School Act. In part two of this story, we will take a look at Champaign's early "school days" and its many surviving historic school buildings.