In the summer of 1941 Private Steve Rogers reported for duty at Camp Lehigh, where he got to know camp mascot "Bucky" Barnes and learned to deal with the routine abuse of Sargent Michael Duffy. He's called to Washington D.C. to meet with President Roosevelt, who reviews the highlights of his career so far then gives him an updated uniform and his new circular shield. Both Bucky and the new shield will be his constant companions for the duration of the war; the shield, of course, for much longer.[1]
In an oft-recounted story[2], camp mascot "Bucky Barnes" enters Rogers' tent unannounced and catches him changing into CA uniform. Here's how various versions depict what happens next:
(CAC #1) "From now on we must both share this secret together," Rogers says. "That means you're my partner, Bucky." (CA 109) Bucky promises, "I'll keep your secret, Cap—I swear it! All I ask is—let me join you! Let me be your partner!" The story concludes, "And so was born the famous fighting team that battled tyranny and crime in every corner of the Earth!" The original story closes with Cap and Bucky (in uniform), going into action "against the vicious elements who seek to overthrow the U. S. Government!"
(Mythos) Cap: "Things are going to change. You're going to have to change, too."
Bucky: "You're Captain America. All along, it was you. I can't believe it."
Cap: "You can never tell a soul, Bucky. Everything that I am depends on it. Understand?"
Bucky: "Wh—what are you going to do?"
Cap: "It's not what I'm going to do, son. From now on its what we're going to do together."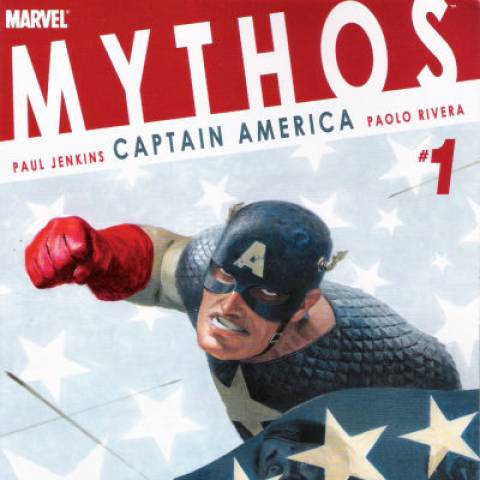 In CA 215, Cap exclaims, "That crazy kid! He virtually blackmailed me into letting him become my junior partner!" Bucky's origin story is related with much the same detail in CASL #12, which intermixes a retelling of their final 1945 Baron Zemo battle (see Avengers #4 and 56) with flashbacks to Bucky's first adventures with Cap, including the Nazi sub episode from ToS #63.
In AdvCA Bucky's discovery of Rogers' secret is depicted in issue 3, but he does not become Cap's sidekick right away. After some training, Bucky accompanies Cap on an adventure to Europe to rescue Col. Fletcher, who has been captured by the Nazis. In issue 4, Cap and the Red Skull face off in a gladiator-style battle; Bucky helps Cap defeat the Skull and they return; Bucky shown in uniform in a back-page splash. In the ToS #63 story a few panels elaborate a bit on Bucky's training, followed by a seeming first mission together—stopping a Nazi supply sub offshore from delivering goods to sabateurs.
CA vol 4 #26 has a flashback set just after Bucky has discovered Steve's identity as CA. Steve (in Cap uniform) and Bucky sit in the office of one "Colonel Price" as he questions them about the "SNAFU." Cap defends Barnes' youthful enthusiasm. Price replies, "Calm down, soldier—it's not quite what you think. The brass has determined that we could use a propaganda figure against the Hitler Youth. Effective immediately, Captain Rogers, you're to train this young buck as your new partner." (Bucky flashes a smirky smile!)[3]
Bucky's New Groove
Bucky's origins have been revisited with his reintroduction to the Marvel Universe in 2006 (more on that later!). Recent stories have peeled back the myth of a naïve teenage sidekick that was presented in the Golden Age comics.[4] CA vo. 5 #50 follows Bucky through several birthdays, beginning in March 1941. He's depicted here, turning 16, being sent to England for "special combat training." He recalls, "Next thing I knew, I was meeting Steve Rogers, and the brass was making a cover story for the press . . . 'Camp kid becomes Cap's Sidekick." Both the 2005 "Winter Soldier" arc (CA vol. 5 #11-14) and the 2011 "First Blood" arc (CA #620-25) revisit Steve and Bucky's early months together.[5]
The "Bucky reinterpretation" is a prime example of trend in the contemporary Marvel Universe to distinguish between Golden Age "comic book stories" (presented to the public in embellished form, primarily for kids) and the "real-life" versions of said adventures (being "revealed" in our own time, presented in comics that are more artistically "realistic" and aimed at older readers). Bucky and Toro were occasionally shown reading the first sort of "Marvel Comics" in actual Golden Age Marvel Comics (even FDR was once shown reading Marvel Mystery Comics–in MMC #34!). This theme is being explored even more deeply in 2011's All-Winners: Band of Brothers limited series and 6th Captain America series (see appendix), which literally depicts Timely Publications producing comics as propaganda under the direction of the government.
Of course, the most significant aspect of the "Bucky reinterpretation" came from the pen of Ed Brubaker, who brought Cap's young lost sidekick back to life in his "Winter Soldier" CA arc and subsequent solo comics beginning in 2005. Rick Remender also provides a few flashbacks to Bucky's early days training and later working with Cap in his 2014 Winter Soldier series. These historic vignettes are full of classic Cap wisdom, such as: "We're here to fix what the Nazis have broken, not as some invading army. We don't murder a defeated foe, for any reason" and : "It looks bad, Bucky, but we're not done! As long as we draw breath—we fight!"[6]
Between Golden Age tales and Modern Age retcons, there are a lot of stories to tell about the war, it's bitter end for our heroes, and all that lies between then and now. Let's begin by getting Cap and Bucky into action together.
Next Up: Cap & Bucky in the "Golden Age"
[1] CA #255 specifically set the meeting with FDR in June (also shown in CASL #7). Steve and Bucky are shown at Camp Lehigh in July in a scene with Bucky reading exploits of Captain America in the newspaper as in CAC #1. But CAC #1 also shows Bucky first in action with Steve when he has his triangular shield—again; more shield confusion!
[2] CAC 1; ToS 63; CA 109, 215; CASL #12 (1999); Mythos: CA (Aug. 2008), and elsewhere. A ToS footnote states, "When Bucky Barnes' G.I. father died in training, Fort Lehigh adopted the orphaned boy as camp mascot." The Mythos depiction places this event in early December, 1941, just after the Japanese attack on Pearl Harbor, news of which Bucky is bringing to Steve Rogers. While this is a nice literary devise, that date cannot be reconciled with many other established aspects of continuity, not the least of which is more recent assertions that this event was a PR fabrication. Bucky himself says in CA #603 (April 2010, Brubaker) that this was "just a cover the army made up. I was trained to be Cap's partner before I ever met him."
[3] CA vol 4 #26 (July 2004), Robert Morales & Chris Bachalo.
[4]See CA: Sentinel of Liberty 12 (1999), issue "0" of CA: White (Sept. 2008), Mythos: CA (Aug. 2008), CA vol. 5 #12, 14 (2006) and #50 (2009); CA #620-ff (retitled Captain America & Bucky for this arc). In the latter, more details are given about Bucky's youth and his father's death, c. 1935-38. His sister is sent to boarding school, and Bucky is placed "on the base, with Dad's old pals looking out for me."
[5] In CA #12 (2005) Steve Rogers is shown in August 1941 watching an athletic, combat-adept Bucky in training, with hints that he is being prepared to be his partner. Rogers and Barnes meeting in #14. An extended version of the scene, which also shows Steve and Bucky meeting for the first time, is in CA & Bucky #620 (Sept. 2011). While Steve has historically been portrayed as a Private during this time, and Bucky as "camp mascot," in the #14 meeting Steve is introduced as "Corporal Rogers" to "Pvt. Barnes."
[6] Winter Soldier: The Bitter March (5 issues, 2014).