Imagine a time when nearly all the heroes of the Marvel Universe could appear in five small panels across a single page! The image below is from the Nick Fury story in Strange Tales #156 (May 1967), by Jim Steranko. Who's missing? Dr. Strange (but he was elsewhere in this same comic); Quicksilver (who should be in the middle Avengers panel), and Namor, the Sub-Mariner (who was more of a villain in these early days).  The mysterious Inhumans, descended from prehistoric humans genetically modified by the Kree (see below), first appeared in FF #45 (Dec. 1965) but had not yet become major players in the MU.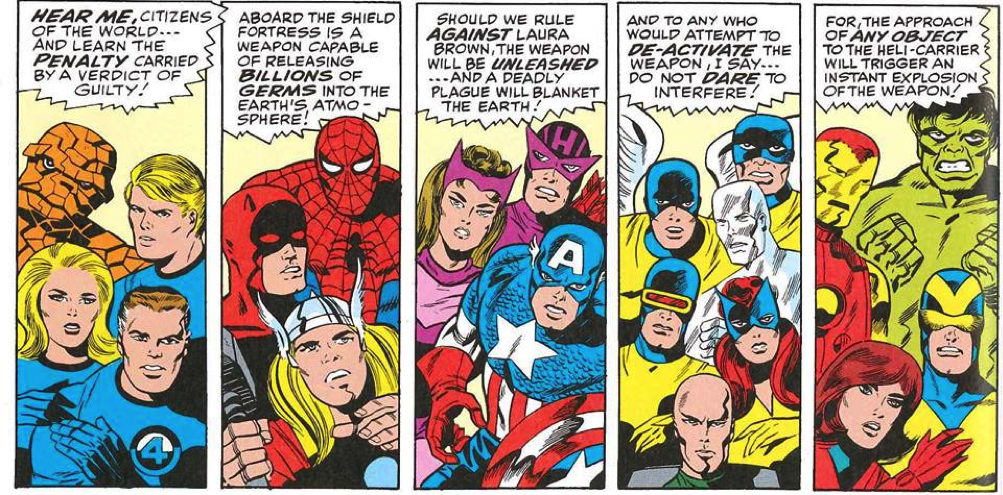 That was all about to change as Marvel entered a new expansion phase that brought the end of core heroes sharing Atlas-era titles and launched a whole universe of new heroes and titles.
1966-68 The Marvel Universe animated with the premier of "The Marvel Super Heroes" TV show (followed by FF, Spider-Man shows)
In 1966 Marvel also introduced two new characters that would open new horizons for the MU.  In Fantastic Four #48 the Silver Surfer arrived on Earth as the herald of the planet-consuming Galactus.  The backstory of this enigmatic cosmic surfer was told two issue later, and he was given his own title and storyline in 1968).  FF #52 introduced the Black Panther, ruler and protector of the African nation of Wakanda, the first black superhero in mainstream American comics (FF cover art by Jack Kirby, Joe Sinnot).
The modern MU began with the FF's journey into space; the late 60s and early 70s brings the cosmos to Earth and takes Earth's Mightiest Heroes to the cosmos. The expansion-minded Kree Empire sent Captain Mar-Vell to Earth as a spy, but he instead betrays his orders and becomes Captain Marvel, Earth's cosmic protector (Marvel Superheroes #12, Dec. 1967). The original Guardians of the Galaxy fight alien invaders in the 30th century (MSH #18, Jan. 1969; they would later time-travel to the "present" in Avengers stories).  In the early 70s, one of Marvel's first extended story arcs appears in Avengers #89-97 (1973-4), as the Avengers (along with Captain Marvel) are drawn into the Kree-Skrull War. One of the MU's most nefarious villains, the Thanos of Titan (who debuted in Iron Man #55) makes a big splash in new-look Captain Marvel #25-33 (1973).
    Marvel Super-Heroes covers by Gene Colan.  Captain Marvel cover by Jim Starlin.  Avengers cover by Gil Kane & Bill Everett.
The cover of the final issue of the Avengers Kree-Skrull War  (above) depicts Rick Jones' psychic manifestations of several Golden Age heroes:  The "Big 3" (top) plus (bottom l-r) Patriot, Blazing Skull, Vision, and the Fin.  One of the feats of "Marvel Magic" of this era was Roy Thomas' determination to connect Timely's Golden Age with the contemporary MU.  A modern reinterpretation of the Vision had already been introduced in Avengers #57 (Oct. 1968).  In Avengers #71 (Dec. 1969), Thomas sent the Vision, Yellowjacket, and Black Panther back in time to face the Golden Age "Big 3."
1970-75  Thomas' boldest Golden Age retcon came in the mid-70s, but before we go there, let's take a quick survey of major Marvel highlights of the early to mid 1970s:
Prehistoric "Sword & Sorcery"—Conan the Barbarian #1 (1970) followed soon by Kull the Conqueror and Red Sonja.
Supernatural & "Neo-Horror"—Man Thing debuted in the Conan mag, Savage Tales #1 (1971) and was given his own title three years later.  Tomb of Dracula #1 (972) followed by Frankenstein. The new Marvel Spotlight title introduced "Werewolf by Night" (#2-4): Ghost Rider (demon-possessed motorcycle stunt-man Johnny Blaze, #5-11); and Son of Satan (#12-24), and Moon Knight, mercenary Marc Spector restored to life by the Egyptian god Khonshu (#28-29).
Martial Arts & "Jungle Action"—Shang-Chi first appeared in Master of Kung-Fu #1 (1974); Danny Rand as Iron Fist debuted in Marvel Premier #15. Ka-Zar (Marvel's "Tarzan"), a frequent guest-star in other comics, headlined Astonishing Tales #1-20 and his own a short-lived title; Black Panther went solo in Jungle Action #5-24 (and later his own title and as an Avenger).
Blacksploitation, Marvel Style—African-American hero Sam Wilson, The Falcon, first appeared in CA #117 (1969) and then became Captain America's partner (with issue #134, Cap's title became Captain America and the Falcon). Luke Cage, a tough urban former gang member, was introduced in Hero for Hire #1 as the first African-American hero to have his own book (he later teamed up for many years with Iron Fist).  Eric Brooks debuted as Blade, Vampire Slayer in Tomb of Dracula #1 (1973).
Still Winning the West—Classic Atlas-era Western Heroes Two-Gun Kid, Rawhide Kid, and Kid Colt, which continued to run reprints and new stories, were joined by new Native American hero Red Wolf (1st in Marvel Spotlight #1, then in his own short-lived title).
Off the Bench—some characters who had been either frequent guest-stars or team members were given a chance to go solo. The Inhumans (genetically-altered by mysterious "terrigen mists") and Black Widow (originally a Soviet spy) shared space in Amazing Adventures #1-8; X-Man Hank McCoy ("Beast"), having turned even more "beastlier," went solo in #11-17. Adam Warlock headlined Marvel Premier #1-2; this new "try out" title also featured Dr. Strange (#3-14), Iron Fist (#15-25) and a host of one-shots.
Back to the Future—alternate futures for the MU were settings for bionic soldier Deathlok (Astonishing Tales #25-36 and Marvel Spotlight #33) and "War of the Worlds" (Amazing Adventures #18-39, where Killraven leads resistance fighters after the Martian invasion of Earth).
1975-80 Marvel ends out this era with the formation of several new teams and a few new characters that proved to have long-lasting appeal:
      Defenders # 50 (1977) cover by Al Milgrom; Champions #1 (1975) cover by Gil Kane
A few of Marvel's early "majors" who'd suffered sometimes erratic publishing histories (Hulk, Dr. Strange, Sub-Mariner), had gathered as the Defenders in 1972.  This misfit "anti-team" eventually included members such as Nighthawk, Valkyrie, Moon Knight, Hellcat (and others) and remained popular until the mid 80s.
The short-lived Champions gathered together two X-Men, Black Widow, Ghost Rider, and the demi-God Hercules on the West coast.
Roy Thomas reached back to the Golden Age with retconned stories of Cap, Torch, Namor, and their sidekicks teamed up as the Invaders.
In his new What If? series, Thomas explained why Captain America was still in action long after the end of WW II (his role had assumed by other Golden Age heroes).
     Invaders #1 (1975) cover by John Romita; What If? #4 cover by Gil Kane
Marvel Team-Up had been featuring Spider-Man teamed with another hero since 1972; a new Super-Villain Team-Up title (1976-80) did the same with Dr. Doom, Magneto, the Red Skull, and other prominent bad guys.
Marvel had been publishing reprints in the U.K. since 1972, but in 1976 the created a new hero for the market, Captain Britain (scientist Brian Braddock empowered by Merlin to be "Britain's new champion"). The same year Marvel tried to channel early Spider-Man magic into Nova, an insecure teenager (Richard Rider) who becomes part of a cosmic law enforcement corps.
Three new strong female characters (though all quite derivative) joined the MU as the 70s ended: Marvel (Carol Danvers, empowered by mysterious Kree connections); Spider-Woman (Jessica Drew, a subject of genetic engineering); and She-Hulk (Jennifer Walters, who was transformed by a blood transfusion from her cousin, Bruce Banner).
Of course, one of the major developments of Marvel's Bronze Age was a new interpretation of the X-Men in 1975, which set the stage for the "mutant mania" of the 80s and 90s.  We'll save that story for our next chapter..
Next Up:  "Make Mine Mutant!"